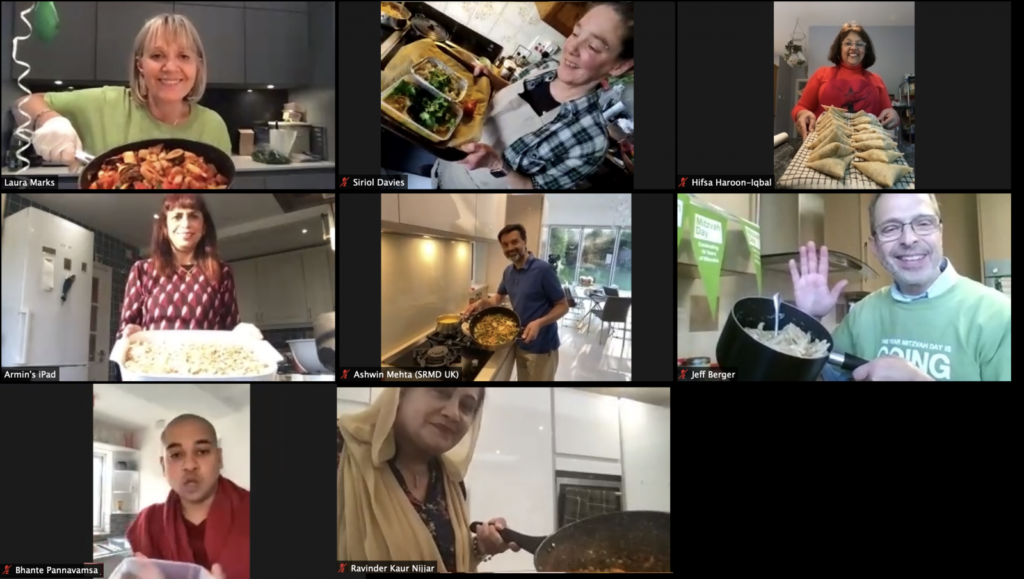 'Every Mitzvah Matters' begins with eight leaders from different faiths cooking together online as a way of caring for other people
Eight leaders from different religions came together to care for other people, through cooking via Zoom, and launch the new Every Mitzvah Matters interfaith volunteering scheme.
Created by the charity Mitzvah Day, the scheme will see regular online get-togethers by people from all faiths and none, where they will take part in various social action projects designed to help their neighbours and the most vulnerable in their local communities. It is intended to highlight and encourage the small every day acts of heroism that people are doing for each other during this coronavirus crisis.
The cooking event saw the faith leaders unite online from their own kitchens and chat about the dishes they were cooking, the significance of food in their religions and who the final meals would be going to. In most cases these were taken to nearby vulnerable or elderly people who would appreciate this personal touch.
The interfaith cooking was hosted by Mitzvah Day's founder and chair Laura Marks OBE. She said: "The little of acts of kindness we are seeing every day in this crisis are bringing our local communities together in a way I've never witnessed before. Our aim is to encourage even more people to take part, and show just how easy it is to be part of Britain's new army of carers as, truly, Every Mitzvah Matters."
Laura, who made a ratatouille using anything in her fridge, was joined by:
Rabbi Jeff Berger, representing the Jewish faith and cooking his own hybrid British/American creation called 'mac and cauliflower and cheese'. Rabbi Jeff is an interfaith adviser.
Siriol Davies, representing the Christian faith and cooking a roasted butternut squash curry. Siriol is the presence and engagement national coordinator for the Church of England.
Hifsa Haroon-Iqbal MBE, representing the Muslim faith and cooking samosas for the breaking of the daily fast of Ramadan. Hifsa is chair of the Jewish Muslim women's network Nisa-Nashim.
Ravinder Kaur Nijjar representing the Sikh faith and cooking a potato and pea curry. Ravinder is a prominent Scottish interfaith consultant and educationalist
Bhante Pannavamsa representing the Buddhist faith and cooking wild mushroom tortellini and gnocchi. Bhante is a Buddhist monk and chef.
Ashwin Mehta representing the Jain faith and cooking an udon noodle stir fry with sweetcorn soup. Ashwin is a trustee of the SMRD Jain spiritual centre.
Armin Dastoor representing the Zoroastrian faith and cooking a sweet vermicelli dish usually cooked for special occasions. Armin runs a catering business serving the Zoroastrian community and all interested in Indian food.
Further Every Mitzvah Matters events are planned and will include a range of online sessions including family friendly activities. Anyone wishing to take part should contact info@mitzvahday.org.uk.