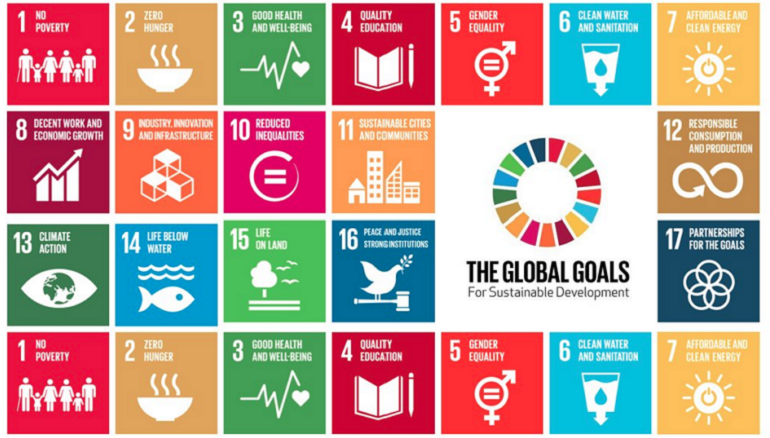 Published on www.mitzvahday.org.uk
---
I imagine that it will soon be unusual for anyone living in the 21st Century not to be aware of the 17 Sustainable Development Goals (SDGs) set by the global community at the United Nations in 2015. The aim of the SDGs is to create a map to a more sustainable future for all of humanity. More information can be found here.
My introduction to SDGs began a few years ago at a conference in Caux, Switzerland.
According to the UN website, 'Sustainable Development Goals address the global challenges we face, including those related to poverty, inequality, climate, environmental degradation, prosperity, and peace & justice.' They are interconnected with the aim for the world community to achieve them by 2030.
At first glance, one might not necessarily associate all of these goals with Judaism but we believe the argument can be made that they're as Jewish as can be. We may simply need to widen our definition of 'who should be included' in our sense of Jewish responsibility for helping to create a better world.
The most basic goals are aimed at Eliminating Poverty (1), Zero Hunger (2), Good Health & Well-being (3) and Quality Education (4). These would surely fall under the category of Gemilut Chasadim (Acts of Loving Kindness) which we associate back to the Biblical time of Abraham & Sarah.
Now you might be asking, how does this connect to my Mitzvah Day project? If you're looking for projects that connect to these SDGs, you can find out if there is a night shelter or foodbank nearby that would appreciate some support. There might be a cooking project you can run for a local homeless shelter, or you may look to promote quality education through initiatives such as the Mary's Meals back pack project.
Then there's Clean Water & Sanitation (6), Affordable & Clean Energy (7), Decent Work & Economic Growth (8), and Industry, Innovation & Infrastructure (9), affiliated with our idea of Tikkun Olam (Repairing our World). By creating enriched opportunities for people around the globe, we minimise much of the current suffering among people in countries of all economic standings.
Mitzvah Day is currently in around 30 countries around the world and we can't wait to see where it goes next. You can also support these causes through running a bike collection for the Bike Project, collecting ring-pulls to be sent to the Philippines by The Purple Community Fund as part of a recycling, women's empowerment and training programme, or support the Lord's Taverners Club with sports kit – they also provide training around the world for people to become sports coaches.
Then there are the economic goals of Sustainable Cities & Communities (11), Responsible Consumption & Production (12), Climate Action (13), Life below Water (14), and Life on Land (15) which can be linked to humanity's responsibility found at the beginning of Bereishit where G-d charges Adam & Eve to 'serve & preserve' the Garden of Eden.
Now this clearly ties into our 2019 theme and Mitzvah Day's ongoing commitment to be as environmentally friendly as possible. You've likely already heard about ways to organise a litter pick in your local area, projects for planting trees and wildflowers, making vegan bird feeders and upcycling projects like making dog toys, using old textiles, for animal shelters.
And finally, there are the goals of Gender Equality (5), Reduced Inequalities (10), Peace, Justice & Strong Institutions (16), and Partnerships for the Goals (17), which are addressed by our Jewish principle of Tzedek (Justice).
Mitzvah Day strongly believes in partnership principles, these are the relationships that connect us and allows us to thrive. Whether working to make things happen with a local charity partner, as part of different faith communities coming together, or in a partnership within your community – we are stronger together than we are apart.
A Mitzvah Day charity partner that deeply espouses these values is René Cassin who works to promote and protect Universal Human Rights. If you're interested in learning more about modern day slavery, the refugee crisis, detention centres, discrimination against minorities or other human rights causes, Rene Cassin can support you in bringing this to your community.
That the first human beings were created in G-d's image (B'Tselem Elohkim) reinforces the need, as well as the opportunity, to see in each person regardless of race, religion, cultural background or ethnicity, the Spirit of G-d. Encouraging people to live according to their higher ideals benefits us all.
The United Nations Sustainable Development Goals not only tie into our key Jewish principles of Tikkun Olam (Repairing our World), Gemilut Chasadim (Acts of Loving Kindness) and Tzedek (Justice) but we hope they'll connect to your Mitzvah Day projects as well.
Wishing you a refreshing August.
Rabbi Jeff & the Mitzvah Day Team